Leaving Time
Synopsis:
For more than a decade, Jenna Metcalf has never stopped thinking about her mother, Alice, who mysteriously disappeared in the wake of a tragic accident. Refusing to believe that she would be abandoned as a young child, Jenna searches for her mother regularly online and pores over the pages of Alice's old journals. A scientist who studied grief among elephants, Alice wrote mostly of her research among the animals she loved, yet Jenna hopes the entries will provide a clue to her mother's whereabouts.
Desperate to find the truth, Jenna enlists two unlikely allies in her quest. The first is Serenity Jones, a psychic who rose to fame finding missing persons—only to later doubt her gifts. The second is Virgil Stanhope, a jaded private detective who originally investigated Alice's case along with the strange, possibly linked death of one of her colleagues. As the three work together to uncover what happened to Alice, they realize that in asking hard questions, they'll have to face even harder answers.
As Jenna's memories dovetail with the events in her mother's journals, the story races to a mesmerizing finish. A deeply moving, gripping, and intelligent page-turner, Leaving Time is Jodi Picoult at the height of her powers.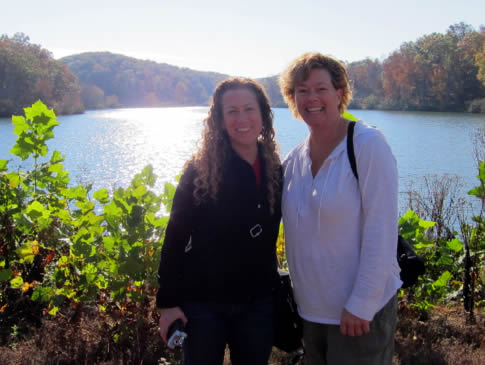 With Professor Abigail Baird on the grounds of the Elephant Sanctuary in Tennessee, researching for 2014.
I had the pleasure of spending time there with the caregivers and their "girls". Both African and Asian elephants spend their days in their own respective habitats, "just being elephants". 2700 acres of wooded hills, valleys, ponds, creeks and a lake are available to these elephants, retired from circuses and zoos. Heated state-of-the-art barns are always open for their choosing. Enjoy watching these Big Girls dusting, napping, swimming and socializing with their friends.
Tune in to the Elecam to see the Girls and their daily activities! »
What others are saying about Leaving Time
Readers are very excited about this book, which, as you know, if you were one of the many who picked up a signed ARC at BEA, delivers a mighty surprise. The author personally requests in a note on the back of the galley that readers "not reveal the ending or offer any spoilers in reviews or social media." So, please, don't do it! Here's what I can tell you: heartbroken 13-year-old Jenna Metcalf is determined to find her mother, Alice, who disappeared ten years earlier. Armed with hope, childhood memories, and clues taken from Alice's surviving journals, Jenna sets out to solve the mystery of her mother's whereabouts and to understand how this woman, a devoted caretaker and talented research scientist who pioneered the study of grief among elephants, could have abandoned her.
Jenna's first stop for help is with former celebrity psychic Serenity, whose ability to communicate with the other side has seriously waned. However, moved by Jenna's plight and some odd signals from beyond, Serenity agrees to offer assistance, even if it means faking her clairvoyant powers. Next on the team is Virgil Stanhope, a washed-up private eye with firsthand knowledge of the cold case connected to Alice's disappearance. The novel's heroine, however, is Alice, whose journey is one of marriage, motherhood, and a mind on the brink of discovery. Her voice, combined with Picoult's fascinating research on elephants and their behavior, adds layers to the narrative's complexity. At the end, readers will be stunned and satisfied, as the surprise is indeed a well-kept secret.

—Library Journal