Up close and personal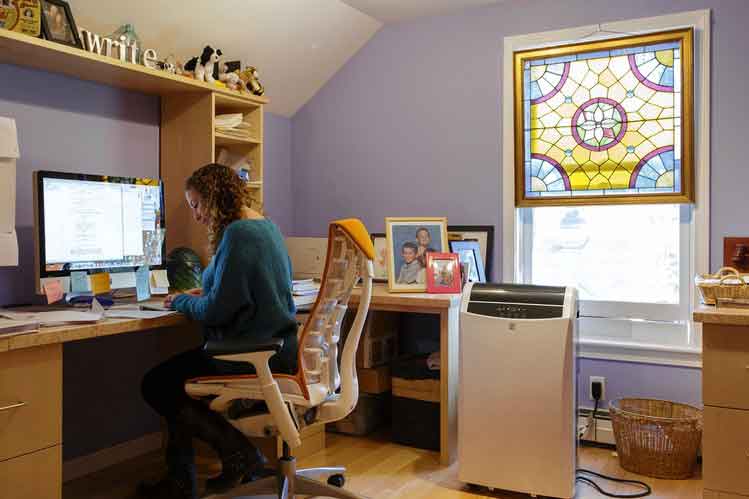 Describe a typical day.
I get up at 5:30 AM and walk three miles with my friend Joan - that's the only time of day I have to exercise, but I really do it for the gossip. By 7 AM I'm back home. They're 17, 15, and 13, now. My husband, who is half antiques dealer/half stay-at-home-dad, is fully responsible for making my life run smoothly - whether that means carpooling the kids, packing their lunches, or being the sole parent when I'm off for months at a time on tour. Oh, and he brings me coffee and lunch and is gorgeous. (Yes, you all should be quite jealous!) I answer my emails for about 1 hour in the morning. Then I write, research, or edit until around 4 PM.
What's the best part of the job?
The fans. Who wouldn't want to wake up to daily emails telling you how fantastic your writing is? Also, the fact that I do what I absolutely love to do. I don't think many people can say that about their jobs.
What's the worst part of the job?
The actual world of publishing. Mergers between companies, tightfisted marketing departments, and a bizarre fascination with Hollywood makes the publishing world a very difficult place to forge a career. For reasons that are still a mystery to me, companies will throw promotional dollars at books that aren't selling (they say it's a last ditch effort)but they will ignore some wonderful books by writers who are just starting out and could use the boost.
What was your worst pre-novelist job?
I worked at a two-person ad agency (I was the second person).
If you could invite five people, living or dead, to a dinner party, who would they be?
Ernest Hemingway, Alice Hoffman, William Shakespeare, Johnny Depp, and Rachel Ray, because someone's got to cook!
What would you take with you to a deserted island?
My husband Tim. He's great company, he's really cute, and he could keep us alive with nothing more than a shoelace and a coconut.
What are you incapable of living without?
My children. And my Blackberry.
What do you drive?
An enormous Toyota Sequoia.
What do you consider your greatest literary accomplishment?
I have literally worn the letters off two consecutive computer keyboards.
What could your husband tell us about you that no one knows?
Lots, I'm sure, but then I'd have to kill him. Just kidding. Actually, he'd tell you that I sleep with teddy bears.
What talent do you wish you had?
Oh, singing. I think I sing better than I actually do. Not that this keeps me from rocking out in the car when I'm alone.
What singer's work are your novels most like?
Aimee Mann. She's a poet masquerading as a songwriter, who far more people should be listening to.
Speaking of that, what's on your iPod?
Aimee takes up a lot of it. You'll also see Jack Johnson, Wilco, Queen, the Rolling Stones, my son Kyle's piano concertos, my son Jake's a cappella solos, and original music from kids' plays that I've written with a very talented friend of mine who's a musician.
Say you are dragged to a karaoke bar. What music do you pick?
Interestingly, when I was doing research for Perfect Match, the attorney I was working with and I went to dinner at a karaoke bar. The lady there tried to make us sing "Summer Nights" from Grease, but it wasn't happening. I actually wrote about this in the book, it was that bizarre a moment. If I had to sing karaoke, I'd pick "It's So Easy to Fall in Love" by Linda Ronstadt.
Are you jealous of other writers and their success?
Well, I think by nature writers are jealous. There's only so much shelf space at the front of the bookstore, and if you only have $25 to spend, you have to pick one hardcover… .you know? I think certain writers show an extreme lack of grace in the face of success - don't even get me started on Jonathan Franzen, for example. But others - like J.K. Rowling - I celebrate what she's done. I think that Jo Rowling and Oprah Winfrey have double-handedly managed to put publishing back on a consumer's steady diet. Indirectly, the work of those two women has helped my career.
What sort of dog would you be?
I would like to think I'd be something as sleek as a greyhound, but the truth is I'd probably be a lot like Gus, my old Springer spaniel - curly ears, sedentary nature, and all.
What do your kids think about your being a writer?
It's made for some interesting moments. They all think it's hilarious when someone refers to me as famous. My oldest, when he was little, used to sit at my feet at the library, yanking out book after book and pointing to the author photo. It could have been Stephen King's face; he'd still yell out, "Mommy!" But it's my youngest, my daughter, who got the writing gene passed along to her. She never just played with stuffed animals, for example… she played, "The cat needs a lung transplant but she's on top of Mt. Everest, so the sherpa needs to take his trusty St. Bernard up to the base camp and perform emergency surgery" Everything, for her, was a story. I shouldn't have been surprised when her second grade teacher called to ask if I could type her writing assignment up. "It's just that it's 36 pages long," the teacher explained. Sure enough, when I read it, I was pretty impressed. It was about a duck and fish that meet on a pond and hit it off. The duck asks the fish to come over for dinner. The fish agrees, but then tosses and turns all night wondering if that meant that he's supposed to BE dinner. He finally goes to the duck's home and says he wants to be his buddy, but he's very afraid of being eaten. The duck decides to be a vegetarian and they are best friends forever. Now, okay, I'm completely prejudiced as the author's mom… but to have such a strong sense of conflict and how it plays into a story when you're only eight years old… well, it reminded me a lot of me, writing all the time when I was little.
Do your kids read your stuff?
The first book of mine that my kids read was My Sister's Keeper. My oldest decided to read it as an assignment when he was about twelve, and he got absorbed in the story and the young narrator very quickly. The day he finished the book, I found him crying on the couch. He shoved me away and went up to his room and told me that he really couldn't speak to me for a while, he was THAT angry at me. (You'll just have to read it yourself to see what upset him… !) Eventually, he wrote a book report on it - on the author line, he wrote: JODI PICOULT (MOM). That cracked me up. My middle son, was reading one of my books back in sixth grade when an older, pretty high school girl came running up to him and said, "She's my favorite author! How did you hear about her?" To which he smiled and said, coolly, "She's my mom." (Anything I can do to help his social life, right??)
What's the hardest part about being successful?
Saying no. I get at least five requests a day to be somewhere - a school, a book club, a literary festival, a workshop or seminar. It's so flattering, that I'm inclined to say yes to everything… but I just can't, because then I'd never have time to write a book. I try to fit in as much as I can, based on my family, my work schedule, and my general level of exhaustion — but I've learned that I just can't do everything I'd like.
Other than writing, what are you good at?
Parenting, I hope. Doing readings. I make very tasty Linzer tortes and broccoli soup. I'm awfully good at giving birth too - quickly, no drugs, etc. - although that definitely has a limited appeal.
Is there anything you absolutely can't do?
Ski - the chair lift terrifies me. Find a crashed computer file. And my husband tells me I should never go into the field of recycling.
What's the most out-of-character thing you've ever done?
Jump out of a plane. I was in college, and my old boyfriend dared me. It was incredibly beautiful.
You are on a deserted island. What health and beauty product do you miss most?
Ouidad Climate Control for my hair. Although I suppose if I was on a deserted island, I could use mashed bananas.
If you were in the middle of an earthquake, what would take out of your house?
An earthquake? In New Hampshire?
Indulge me.
My kids, my husband, my dogs. Whatever manuscript I'm working on right now, and/or research. My daughter's tiny stuffed dog Diddley, because she's had it for eight years. Shoes.
Jimmy Choo?
Uggs. Hey, it's New Hampshire!
---
In our world of uncertainty, what do you know beyond doubt is true?
Love. Especially between a mother and a child.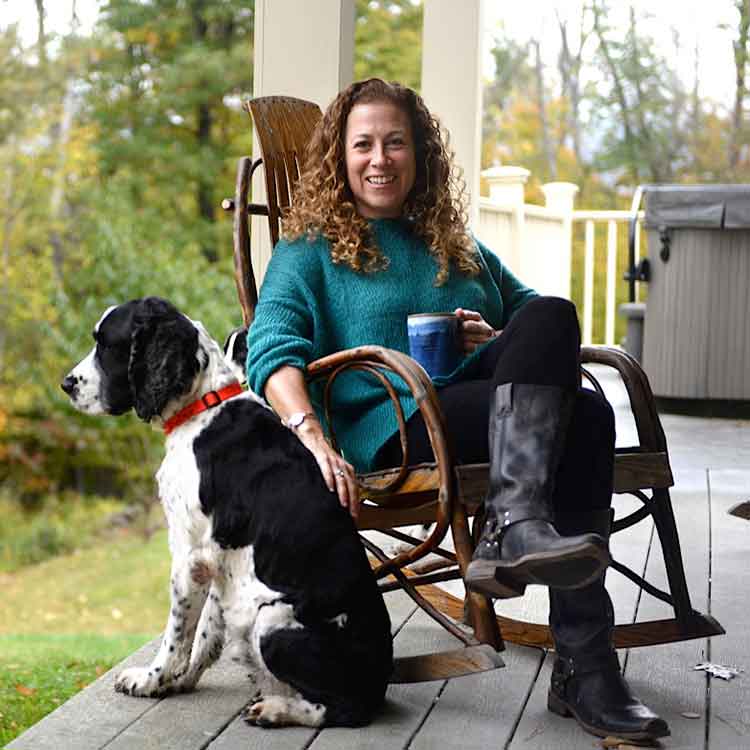 What is it about the film The Way We Were that affects you enough to reference it in almost all your books?
I can't believe I really have referenced it in ALL my books, have I??? I think that what struck me the most about the film was that it really is the ultimate heart wrenching story – the love affair that can't survive in the real world. That's why The Sun Also Rises is such a great book, and why Brokeback Mountain was such a successful film…you get the picture. Also because (lucky me) I married a guy who looks like Robert Redford!
If you had a million dollars, what would you do with it?
Send my kids to college and make sure they have enough money to get on their feet in the world. Make sure my parents never have to worry about retirement. Buy a lake house in New Hampshire, which costs more than a million, so scratch that, actually… And give a good chunk to charities.
Do you need a new research assistant?
I'm laughing—I hear that question all the time. Also, people who want to know if I need a proofreader, an extra editor etc. As much as it would be fun to have a research assistant, it's more fun to do it on my own!
I loved Perfect Match - you write of an 'unusual' and intense relationship between sisters and I wonder if you have a sister yourself?
Nope. I have a little brother.
Which would you rather? To be able to sing really well or to be able to fly?
A tricky one – because they'd both be so cool. I'd probably want to fly. I mean, people would be so amazed that if I DID sing, they wouldn't notice if I was off key, right?
If you were born a male and lived in another century, what historical event would you like to have been involved in?
FABULOUS question. At first, my mind went toward the Holocaust – I would have loved to prevent that by challenging Hitler. But then I realized I needed to go even further back in time…I wish I had been around in the first century when Ireneus, the bishop of Lyons, was trying to codify the early Christian church by deciding what was "real" gospel and what was heresy. This comes from research I'm doing now for a book that will come out in 2008 – and looks at the editorial decisions made to include certain texts in the Bible…and to throw out others because they were too threatening to the organisation of the early church (such as the Gospel of Thomas, which advocates religion being individual and very personal and tells you that the clergy can't tell you what to believe; you have to find it in yourself.) I really believe that the root of so many huge problems has been religion, and drawing the line in the sand between those who believe what you do and those who don't – just look around the world to see the ramifications of what Ireneus did by deciding what constituted Christian faith, and what didn't.
Some of your books have references to American Indians etc and their culture - is that something you have a personal affinity with?
I'm not Native American, but I really am fascinated by their family-driven culture and their nature-based spirituality. When it comes to belief systems, they just seem to "get it right" when the rest of us are ruining the environment and falling apart at the seams.
Do you have an active sixth sense?
God, no. Unless it's finding topics to write about that the rest of the world is intrigued by, too. I'll tell you what I DEFINITELY don't have – any geographical sense. I can't read directions; I can't find water even if I'm close enough to smell the ocean…I'd still be wandering the streets of Rome if I hadn't given my son, who was travelling with me, the map.
Who do you name as the most influential person in your life to make you such an open-minded author who is interested in tackling the hard moral dilemmas that most of society try and ignore?
My mom, who always said "You can," and who believed in me. And Mary Morris, who made me a better technical writer and taught me to challenge myself.
I always say "Jodi Pickle" is my favourite writer, but what is the correct way to pronounce your name?
Pee-KOE, like the tea ?
Which character in your books would you least like to trade places with?
Hard question, because so many of them have awful lives! I would have to pick Sara Fitzgerald, though. To live your whole adult life with a chronically ill daughter and then to lose another one – well, I don't know if I'd ever recover.
Perfect Match is dedicated "To Jake, The bravest boy I know, Love Mom". Is any part of this book based on personal experience?
Jake, my middle son, was six when he was diagnosed with cholesteatoma in his ear – a benign tumor that can grow into your brain and kill you. The way to get rid of it will leave a child permanently deaf. My husband and I chose a new technique that MIGHT preserve some hearing, but would require Jake to have more surgeries. It was the right choice because in the middle of ten surgeries in three years, we learned Jake has tumors in both ears (there are less than ten kids in America who do). For many years after he was tumor-free he was profoundly deaf in his left ear and wore a hearing aid; after a reconstructive surgery last year he now can hear out of both ears. He was always so even-keeled about going for surgeries – even as a tiny boy – and I used to always think he was JUST the most remarkable kid for being able to roll with punches like the ones he'd had to deflect. Like Nathaniel, he's a survivor – just of a different trauma.
What one character (real or fictional) in your life has changed the way you think?
Ross Wakeman – and the ghost hunters I worked with doing research. I was a total sceptic until I personally experienced things that I couldn't explain rationally. I'm not scared of ghosts – I just think that there might be a bit more to this world than we imagine.
You tackle tough subjects - but is there any topic you could never bring yourself to write about, and why?
I haven't found it yet…but I think if I were actually living some sort of trauma, I wouldn't be able to write about it until I had gotten through it, and processed it on a personal level.
What would the title of your biography be and who would you want to write it?
The Stories of My Life – that's catchy, isn't it, LOL? I would probably love to have Alice Hoffman write it, if only because I'd read ANYTHING she writes.
Is there any character in your books that you feel resembles you closely, or is there a little bit of you in all your characters?
There's very little of me in most of my characters – thankfully, because they're pretty screwed up! I'd probably have to say I come closest to Nina Frost or Gus Harte, because they're ubermoms. If you cross my children, I can't promise I'll behave!
I'm sure you are sick of the usual questions about inspiration, influences etc, so I would ask you to tell me your favourite joke.
A string walks into a bar and orders a drink. The bartender says, "Look, I can't serve you, you're a string." So he walks outside and twists himself up tight and walks back into the bar. "Buddy," the bartender says, "I already told you: I can't serve a string." And the string says, "I'm a frayed knot!" (Get it? "I'm afraid not?!") Stupid, I know, but it really made me laugh.
If you were to suffer amnesia and only be able to hold on to one memory for the rest of life, which memory would it be?
OK, to be honest, this is SUCH a good question I've been mulling over it for days. I actually think this isn't just a question…it's the starting point for a book, so be on the lookout!! But to answer: The last best moment the five of us had as a family – whether that's around the dinner table, surfing in the Pacific Ocean, or just mauling me when I come back through the door of my house after being away on tour.
If you had to choose a level of Dante's hell to be forever forsaken to, which level would it be and why?
I totally wouldn't want to be in the vestibule, which is pre-hell, and is reserved for people who won't take sides or search out their own beliefs! Honestly, the best bet would be Limbo, which is reserved for unbaptized babies and virtuous pagans and great philosophers and authors…there's a lot of sadness, but no awful punishment. But chances are equally good that I'd wind up in the eighth circle because of WHAT I write…that's where Dante put the sewers of discord and schism!
How would you encourage children to read - especially those who don't like to?
Let them read what they WANT to – which might be Sports Illustrated or fantasy novels or comic books. Reading for joy is reading for joy, period. If school assignments are involved, let them read one book of choice for every one that they "have" to read. And above all else – model it yourself! We have library nights, sometimes – no TV, just all of us crashed out on couches with our books.
Do you think women have greater 'emotional feel' for family relationships to be able to write more in depth about them than male writers?
Absolutely not. A good writer is a good writer and has nothing to do with whether you're a man or a woman!
Who has been one of your favourite characters you have written about?
Jesse, from My Sister's Keeper. I just love him – he thinks he's soooo tough, but he wears his heart on his sleeve.
I have three children as well and some of your stories break my heart. Do you find it hard to disassociate yourself at times?
Luckily, my real children haven't had to live through the trauma of my fictional children…I think that the fact that I can leave my office at the end of the day and go downstairs to them and drive to hockey practice and quiz my son on French and make dinner really demarcates the difference between reality and fiction for me. A lot of my books function as superstitions for me – I think "whew, I wrote about it…that means we're safe from teen suicide/childhood illness/kidnapping…" Of course that's not true, but hey, superstitions never are. That said – often when I'm writing a really emotional scene, I find myself bawling at the computer!